Divi is one of the popular themes in the world used by thousands of WordPress users. It is not just restricted to a theme, its visual drag and drop builder features allow you to design and customize every bit of your website in an organized way. Divi theme's actual capability lies in its visual page builder. This remarkable page builder allows you to build any type of website by just combining and arranging content sections. It is baked into the Divi theme and Divi page builder plugin. However, you may encounter some Divi builder not working issues during its operation. In this article, I am going to discuss some Divi builder, not working issues, and the tips to fix these issues.

Divi builder not working issues
Divi builder is undoubtedly the finest page builder available but there are some issues regarding its usage that you may experience. You don't have to worry at all, we've got your back. There is a solution to everything. If you don't know how to fix such Divi builder not working issues, well at the end of this article, you will hopefully find a way to fix them by yourself. This article will walk you through a list of steps to take to solve the problem and get your website running fast and smooth. Are you ready? Let's start!
❖ Divi builder not loading

"Divi builder not loading", "Divi page builder takes forever to load" and "timeout issues" are the most common issues that you can experience while using a Divi page builder. Well, the problem is not really Divi related, several other factors usually contribute to make your website slow or buggy.
Update to the latest version
First of all, please make sure that you have the latest version of Divi. If you don't know how to update Divi, you can learn that from here. Steps to follow to fix the Divi builder timeout issue.
Clear your browser cache and cookies (After Every Update)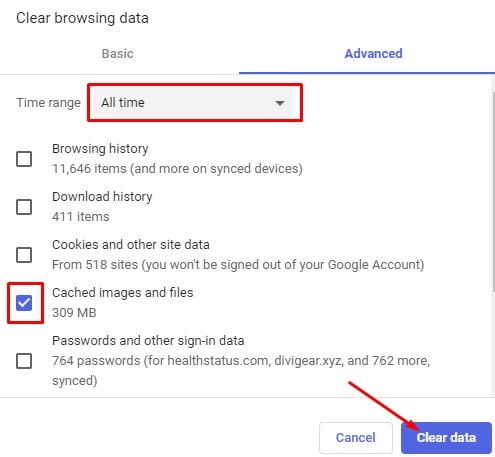 The cache can help you in loading your website really fast by reducing the time to reload every single thing every single time as it is the resources that are stored in your browser but it can also be the common origin to cause problems to your Divi builder. If you don't know how to clear cache, well this is something that you should learn how to do. You can learn from this useful website. Also to clear your browser's cache and cookies, go to the settings menu of your browser and search for the "Clear browsing data" option.
Clear the Static CSS file generation in Divi
Go to Divi>Theme Options>Builder>Static CSS File Generation and then select "clear". If the problem persists then try
Clearing the caching plugin
Clearing the CDN cache
Clearing the cache on your WiFi router.
These steps can possibly resolve your issue. If not, then move to the next tip.
Clear local storage memory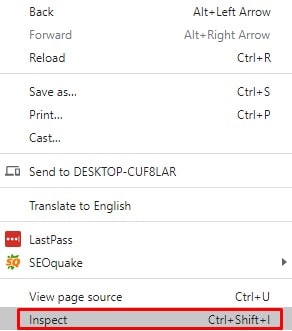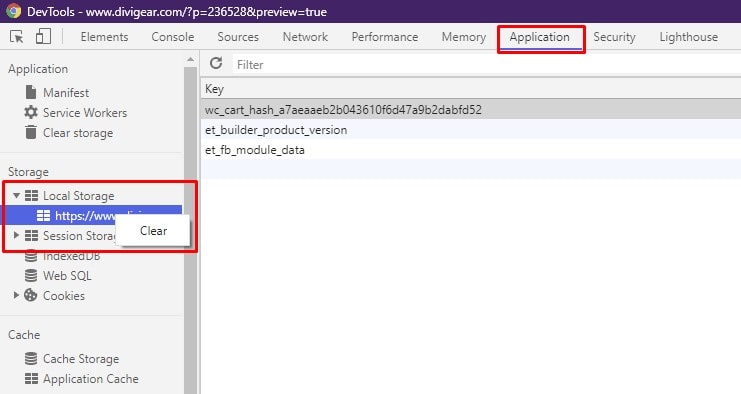 This step is followed to check whether the backend or frontend of the website is the cause of the Divi builder not working properly or Divi builder timeout issue. You can use Ctrl+Shift+I or you can right-click on the website and then click on Inspect. After that, the development tools console will open. On that console, click on Application and then click on Local Storage, a drop-down menu of your website will appear, right-click on it and click on Clear to clear your local storage memory.
One prime reason behind the Divi builder not loading issue is that the plugins can conflict. Disable all the plugins and see if the problem remains, if the problem is resolved then it is confirmed that the issue is caused by plugins conflict. You will have to narrow it down, now, enable plugins one by one to identify which plugin is creating the conflict and preventing the Divi builder from loading.
It is another suitable method to find out which things are responsible for causing the problem of Divi builder not loading. Go to Divi's Support Center and search in the settings for "Safe Mode", turn this mode on, go back and check if the problem is solved or not.
Divi hosting (Divi compatible hosting)
The most suitable hosting for Divi. The Divi hosting includes automatic Divi installation, free migration and pre-installed tools to operate Divi without any problem. Using this hosting, you don't need to worry about the Divi visual builder not loading issue, because PHP limits and PHP versions are already sufficient.
❖ Divi Page Builder Unexpected Error
Divi page builder may sometimes throw an unexpected error. But the good thing about the error is that it informs you that what is the problem and a solution to fix that problem.To fix this type of errors, you have to try the following operations:
Update Divi to the latest version
Reduce the number of plugins to prevent plugins conflict
Deactivate the Child theme
Check server settings
The solution to your problem of facing the errors should lie somewhere in these operations.
❖ Divi Page Builder Gets Unresponsive (Can't click or edit)
Unresponsiveness of the Divi page builder can be caused by caching issues. Follow the above-discussed steps to clear the cache data and check whether the problem is solved or not. Make sure to update to the latest version of Divi or re-install it from your Elegant themes account. If the problem is not fixed after that then the following ways can help you to remove Divi page builder issue:
Removal of any custom code
If you use Child theme, deactivate it
Deactivate installed Divi related plugins
You can activate the theme and plugins again after the problem is fixed.
❖ Divi builder not showing on the active page
Divi builder is not showing on the active page, this can be another Divi builder not working issue you can face while using it. To fix this issue, first make sure to follow all the above-mentioned steps of updating to the latest version, clearing cache and cookies, clearing browsing data, removing plugins conflict and try enabling safe mode.
Enable The Latest Divi Builder Experience and Classic Editor

If that didn't work for you then go to Divi > Theme Options > Builder > Advanced > Enable Classic Editor > Save Changes, this will resolve your issue positively. Enable the latest Divi builder experience as well to enjoy the new Divi builder on the backend.
❖ Can't save or publish new pages in Divi
This issue of Divi page builder has been reported by many users of Divi. Well, it is not really a Divi related problem. It can be mainly a WordPress issue and similar to earlier problems, this problem also occurs because of your server misconfigurations, plugin conflicts, cache data or your internet connection. To solve this issue, you can simply do the following:
Go to Plugins
Find your cache plugin (eg; wp super cache, wp fastest cache, wp total cache, etc.)
Deactivate them or just turn off
If this problem is only subjected to any specific page then try disabling any custom code or plugin related to that page. Make sure you have the updated WordPress. You can also use Divi safe mode mentioned above and try again. In the end, check your server settings and make sure that they meet Divi requirements. If the problem persists, you can follow up on the issue with the Divi Community forums or their Divi Support Center.
Found the solution?
I think we've covered almost every possible issue that you may encounter while using Divi page builder and the troubleshooting tips to fix Divi builder not working issues. It is much likely that the problems you will face regarding Divi builder not working have been discussed in this article. If you didn't understand something or want a more visual explanation then you can watch this video.
Is Divi Worth it? (A combo of theme and page builder plugin)
Divi is one of the most popular themes nowadays developed by Elegant themes. Its specialty is that it comes in both a theme and a plugin version while others are just plugins or just themes. You can use Divi Builder with any WordPress theme. It is surprisingly easy to use, has tons of features, its pricing is good, can build unlimited websites and includes more than 1000 templates. However, there are always some pros and cons to everything. Similarly, Divi page builder can be glitchy sometimes and can pop-up with errors similar to what we have discussed before. Hope you have found a way to resolve your Divi builder related issues.