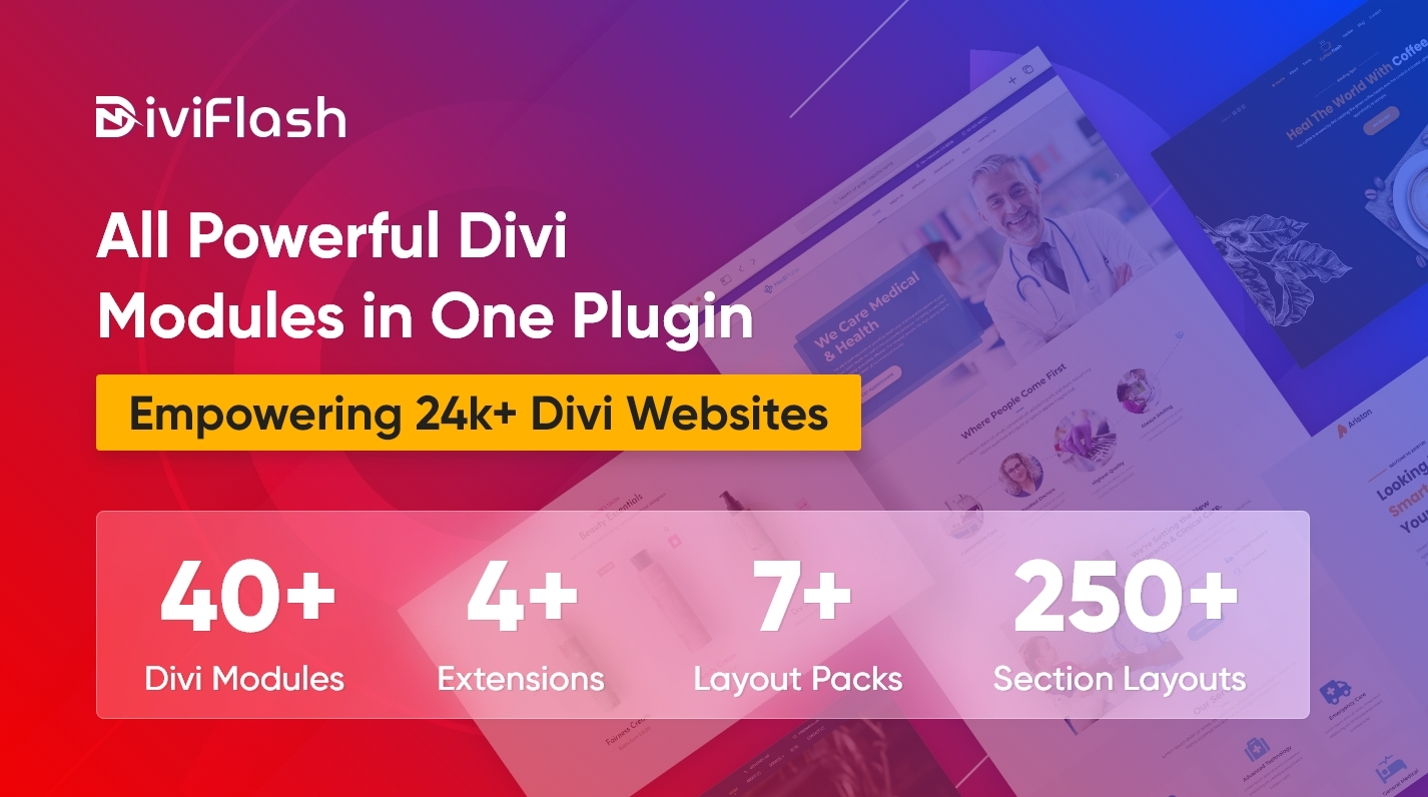 LICENCE TYPE: 1 Website / Lifetime
DiviFlash is the most powerful, feature-rich module pack for Divi. Get an additional 40+ premium Divi modules, premade section layouts, prebuilt websites, and extensions in one plugin now!
43 New Divi Modules and Counting…
DiviFlash is the complete module pack for Divi. You will have 43 brand-new Divi modules to build attractive websites. Each module has tons of new features that will expand your design possibilities beyond your imagination.
All the Diviflash modules are developed to meet the different needs of Divi users. It has modules for –
Regular Usage on Any Website (11)
Creative/Animated Design Creation (12)
Divi Blog and Different Post Types (5)
Divi Photo Galleries (3)
All Your Carousel Requirements (8)
Third-party Integration and Styler (4)
Free Divi Website Layouts
10+ Multipage Full Website Layouts & Counting…
DiviFlash provides a collection of 10+ free complete website layouts. Some of those layouts are made with only Divi, and some will require the DiviFlash plugin. Choose the right layout and make your content shine all over the web. Top niche layouts DiviFlash covers-
Divi Photography Layout Pack.
Divi Consultant Layout Pack.
Divi CV/Resume Layout Pack. (New)
Divi Black Friday Layout Pack. (Special & New)
Divi Coffee Shop Layout Pack
350+ New Divi Section Layouts and Counting…
Enjoy a vast collection of designer-made Divi Section Layouts using each DiviFlash module. Those section layouts are free to download and available for you to use on any project.
Team DiviFlash tried to include various types of design using those premium modules, which will give you a clear idea of design possibilities. Top sections you will find on DiviFlash vault-
Hero Sections
Card or Content Sections
Gallery Sections
Pricing Table Sections
Blog and Archive Page Section
Woocommerce Store Sections
Different types of carousels, and many more.
4+ Divi Extensions & Counting…
DiviFlash is a powerful addition to Divi's websites. Solve problems, and extend the functionality of your WordPress website with a single click. List of extensions included in the DiviFlash Plugin:
Divi Shortcode Extensions
Default WordPress Menu Customizer.
Allow different file formats support for WordPress.
ACF integration with DiviFlash modules.
More will be added…
Join Over

24,000

Divi Website Owners, and Start Building a Beautiful Website That Has Never Been Possible Before.
Limited-Time Offer Exclusively only on DiviGear at
Single Site License / One-Time Payment
DiviFlash has 14 days of Money Back Guarantee, so joining is Risk-Free!
Frequently Asked Questions
Do you have a question about DiviFlash? See the list below for our most frequently asked questions. If your question is not listed here, then please contact DiviFlash.
What is a 3rd party plugin?
3rd party plugin is the plugin we recommend on our website for our customers. The third plugin is maintained and managed on a different website. We do not provide support or licenses for third-party products.
Why promote DiviFlash?
DiviFlash is a product from the same parent company as DiviGear. It is developed and managed by a different team. Black Friday is a special occasion, and we wanted to give something special to our customers. So we got a deal from DiviFlash that is not available on diviflash.com. This offer is only for DiviGear users.
Is it included in the DiviGear Combo Pack?
Unfortunately, NO. As we already said, DiviFlash is a 3rd party product that Team DiviFlash manages. We cracked a special offer from them and would like to share it with you.
What is the license term?
This is an exclusive offer only available for DiviGear users. You will get a single-site license for a one-time payment. Here are the terms of service you should check before you buy.
From where can I get product support and the license key?
As the product is managed by DiviFlash.com, you need to purchase it from the official website, and they will provide the license and downloadable product. If you need assistance with the DiviFlash plugin, please click here.
Disclaimer: This plugin is maintained and managed by the DiviFlash team. This plugin is not included in the DiviGear combo offer.