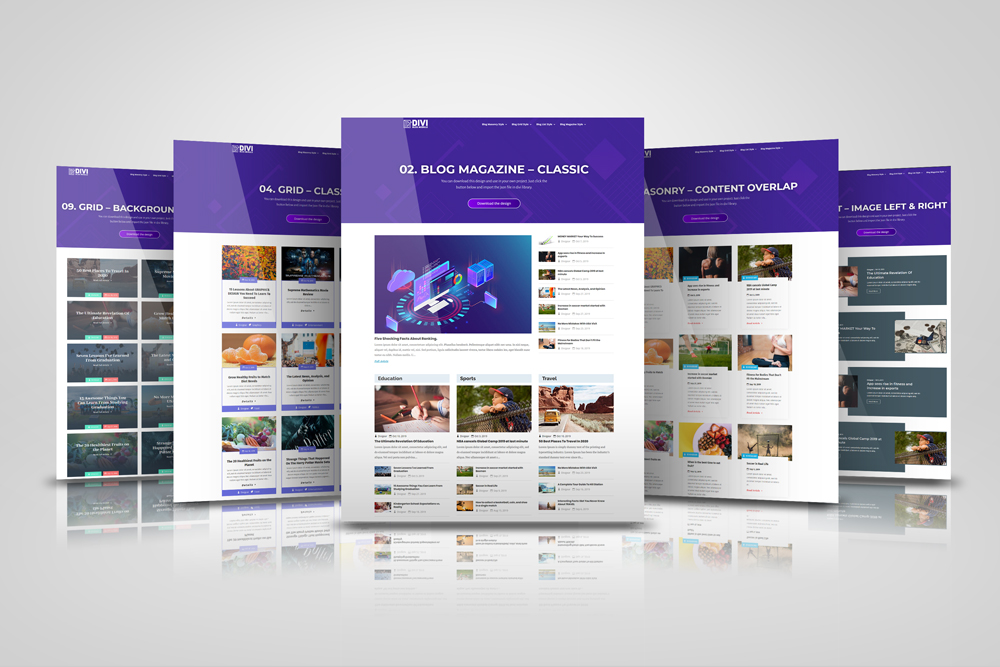 Divi Blog Module is a module offered by DiviGear to create & design your exclusive blog page layouts with extensive design options. Divi Blog Module allows you to create your blog layout quick and easy.
Design remarkable, Creative and robust
Divi Blog Layout

for your website.
Looking for Responsive, Unique blog layout for your Divi website? Divi Module for blog provides unlimited design options and layouts for your blog page.
It's been long divi is stuck with two blog layouts, limited design options. It's not easy to change because it needs coding knowledge. But not anymore! Now you can make your own divi blog page with divi blog layout plugin.
Show your responsive and beautiful blog layouts anywhere on your website.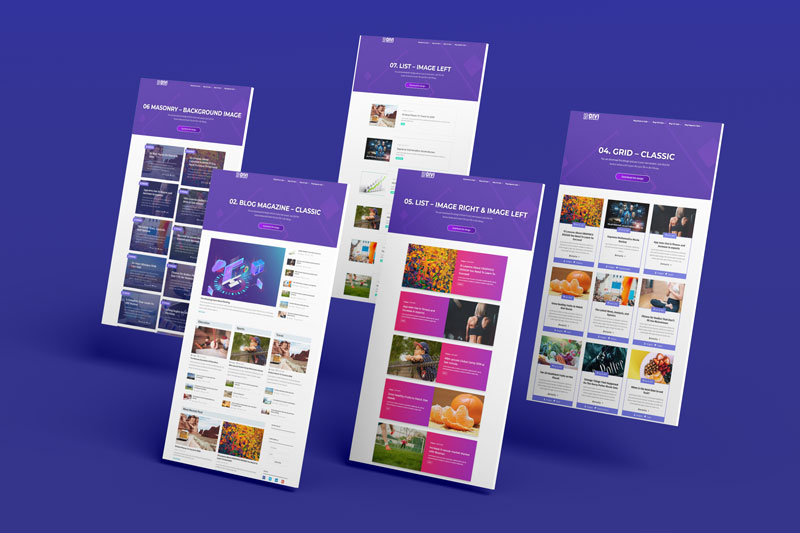 Divi Blog Module is a must add on Module for divi theme/builder who runs a blog on their site. 
This
divi blog plugin
comes with high functionality to embellish your blog page with just an edge. This 
Blog module plugin will enable the opportunity for you to create numerous
divi blog post layouts
for a single page or multiple blog pages.
Divi Blog Masonry Layouts
Divi Blog Magazine/ Newspaper style
Divi Blog Full-Width Layouts
& Many More... Divi Blog layouts
Amazing Features
Fully Responsive.
All Major Browser Support (Tested)
Show blog posts to any page
Build a full Blog Page
Control over post Meta
Unlimited design combinations
Premade Divi theme blog layout
Style your content
Compatible with Divi theme and Divi page builder
The blog module plugin has excellent features and flexibility to design blogs. Diverse options from this plugin can create unlimited numbers of designs.
Design Options
A variation on divi blog post layouts
Control over feature images.
Create own meta style.
Customize read more button.
Style the Title and Content & control excerpt
Separated Border Style
Huge custom spacing flexibility
Shadow effect
& Many more
Divi Blog Module Features
Supports both Visual and Backend Builder.
Number of Post selection
Offset The post
Excerpt Length
Date format
Select Responsive item
Layouts
Equal Height All articles
Featured Image as Background
Image Resolution, Overlay, Hover & Borders
Full control Title, Meta, Content & Buttons
Pagination Styling
Container Spacing
Content Spacing
Meta Spacing
Button Spacing
Box Shadow
Border
Filter
Transform
CSS ID & Class
Custom CSS
And many more
45+ Ready to Go Template
To get you started we provide a large collection of aesthetic divi blog post layout. The Cutting edge designs & Easily customizable layouts will Increase your efficiency and project quality without further ADO.
Have a pre-sale question?
Feel FREE to reach out our support
All In One Combo Pack
33% OFF
Advanced Divi Tabs Module
Advanced Divi Heading Modules
Divi Carousel Module
Divi Product Carousel Module
Divi Blog Module
Divi Blog Carousel Module
Multipurpose Divi Child Theme
Business Divi Child Theme
StartUp Layout Pack
Hosting Layout Pack
Plugin Combo Pack
25% OFF
Advanced Divi Tabs Module
Advanced Divi Heading Modules
Divi Carousel Module
Divi Product Carousel Module
Divi Blog Module
Divi Blog Carousel Module