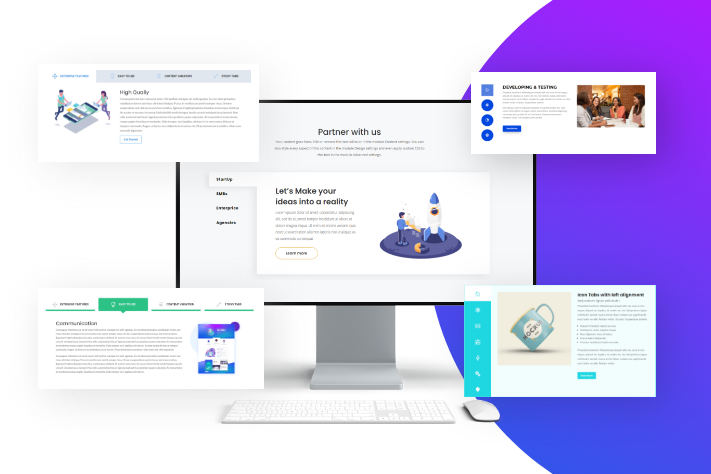 Advanced Divi Tabs Module
Introducing the most user-friendly, highly customizable Advanced Divi Tabs Module, an extended version of the Divi Tab module. Create Divi tab layouts in horizontal & vertical mode with full content customization options.
Advanced Divi Tabs Directions
Divi Vertical Tabs & Horizontal Tabs
Advanced Divi Tabs Module overcame the limitation of default Divi tab modules. It introduced Divi vertical tabs & horizontal tabs in Divi tab layouts. Now you can place the tabs in four different positions with alignment and width control options. Surprisingly those features can be customized for devices as well to make Divi tabs mobile friendly.
Navigation Bar Placement.
Navigation Bar Width Control.
Navigation Bar Stickiness.
And Many More.
Advanced Divi Tabs Module has powerful customization options to design tabs and take them to another level. This Divi tab module can describe tab text, add images or icons, and style typography, borders, and shadows in active and inactive tabs. Here are some essential features-
Active Navigation Arrow Toward Content.
Different Background Customizer.
Navigation Bar Icon Customizer.
Active Navigation Tab Customizer.
Advanced Divi Tabs Module comes with diverse content options for you. Create an unlimited combination of Divi tabs now in no time.
Navigation Tab
The Divi tabs module enhances the beauty of the navigation tab by adding a title, description, and even an icon. Also, the title & description get a decorative look with a striking font style, color, size & width. On the other hand, users can place the icon wherever they want.
Content Area
The content area consists of all the text styler attributes to embellish and give the content text an organized view. So, users can apply heading tag, bulleting, numbering, bold, quote, alignment, and much more to highlight several important parts of the text.
Image
Under the advanced divi tab module, web owners can move or change the image position anywhere they want. The image size & alignment get modified alongside an alluring border & box-shadow effect. Nevertheless, a border corner rounding effect is achievable for the image.
Button
A stunning button can drive visitors into the deep of the website. The divi tab module brings a button option along with other essential settings to adorn the button quickly. Users can implement a gripping color, background, text style, and clean edge border to convince the reader to click.
Embedded Content
Divigear provides all the facilities, including the embedded content feature, to make the divi tab module more attractive & informative to visitors. So, embed youtube videos, social content, images, or anything that bring the module a distinctive presentation.
Advanced Divi Tabs Modules Shortcode
Using shortcodes in Divi is easy as an edge. Save a section, row, and module in the Divi library, copy the code, and paste it into the Divi Advanced Tab module. Here is an example-
Easy To Customize
The Divi Tab module is created as a simple but powerful plugin, and it's easy to use.
SEO Friendly
All our plugins are SEO-friendly. You can use it anywhere on your website without a doubt.
Top-Level Support
Customer is our top priority. So you can expect top-notch support within 24 hours.
Content Area Customization
Advanced Divi Tabs Module eliminates the barrier using various content like Image, Title, Button, and body text in the content area. Custom Divi tabs module comes with customization of each element with unlimited possibilities. See some of the crucial features-
Typography Styler for Text and Title.
Shadow and Border effects.
Different Position options for Contents.
Sizing and Alignment control.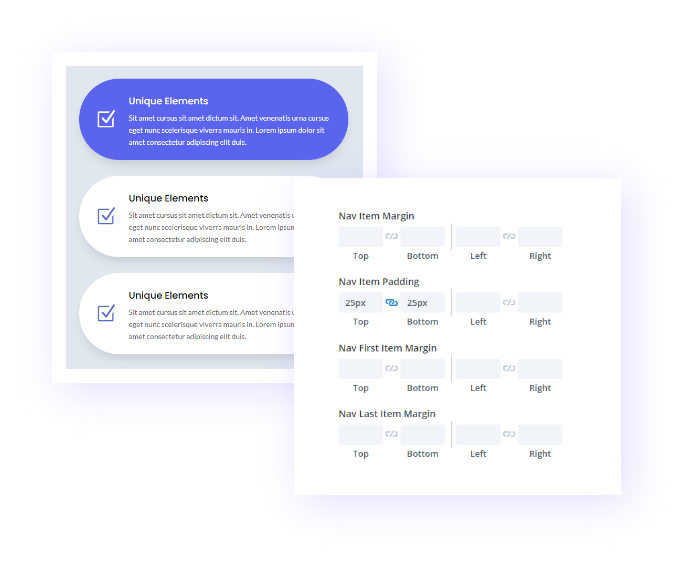 Advanced Divi Tabs Module
The Plugin for Divi offered by Divigear is always unique. Defining a compatible distance between the Divi tabs elements is just a hoax of padding & margin for you under this feature. What else do you need as a designer? Don't think twice; take action right away.
Wrapper Custom Spacings.
Content Custom Spacings.
Navigation First and Last Item.
And many more.
Advanced Divi tab layouts
Learning a new module and creating something from scratch feels hassle to you? We got you covered. Our Divi Plugin offers a vast number of Divi tabs premade templates with a periodic update. These ready-to-go templates let you keep the adjustment with the modern phase web development industry. Just Download, Upload, Edit, and Publish.
Using a shortcode has always been a game-changer for WordPress. Advanced Divi Tabs Module included shortcodes to allow using one module inside another, which was never possible before! All you need is to copy the code from the Divi library and use it as tab content. Here are some examples you can use with the shortcode.
Multiple Blurbs Section Inside Tab.
Pricing Table Inside the Tab.
Blog and slider Section into The Slider.
And Any other combination.
Divi Advanced Tabs Module By DiviGear
Divi advanced tab module comes with a wide range of features for Divi users. Possibilities for design are unlimited here. So explore the features and combine them to create something extraordinary.
Reveal Animation
Advanced Divi Tabs Module has 8 different reveal animations for content to smooth transition while navigating from one tab to another.
Background Customizer
This module allows you to give solid, gradient, or images in different background customizer areas like- Navigation bar, Content container, and many more.
Sticky Navigation
The navigation menu can be sticky by features like offset and device control. So your visitor can always see other navigation items.
Navigation Placement
The navigation menu can be placed in different positions like the top, bottom, left, right in the Divi tabs plugin based on your devices.
Navigation Bar Width
Navigation bar width can be controlled and aligned based on design requirements and devices so that the design looks great on all devices.
Navigation Container
The navigation container is highly customizable with border styler, box-shadow, and background to give the Divi tab module an authentic look.
Global Content Area
The Advanced Divi Tab Module content area is very flexible in terms of customization. From vertical content alignment to shadow, each element can get its unique touch.
Navigation Icon Styler
The navigation bar can have icons in the Divi tabs plugin, which is highly customizable with features like color, size, position, and more.
Navigation Bar Styler
Style the navigation title and description with fascinating features and create a distinctive navigation bar in no time.
Active Navigation Item Styler
Active Navigation Item Styler gives the navigation bar a distinctive look over its active stage mode by adding a different color, border typography & arrow.
Content Area
The advanced Divi tabs module has multiple content areas to implement image, nav item title, subtitle, description, icon, and more.
Typography Customizer
The body text, heading, and other text of the Divi tabs module easily get a stunning view under the typography customizer.
Button Customizer
Web owners can customize the button over a covetable look by applying attractive color, border effects, alignment, and so on.
Custom Spacing
Custom spacing is an extraordinary feature dedicated to keeping a balanced gap between all the ingredients of the module.
Sizing Option
Users take full control over the Divi tab's maximum height & width under the sizing feature and create a responsive container size.
Border Styler
To provide the tab module border a clean edge & adoring appearance, web owners need to utilize the border styler feature.
Box Shadow Options
The advanced Divi tabs module carries 7 different types of alluring box-shadow effects alongside all other decorative features.
Filter Option
Under the filter option, Divi users can bestow a colorful look to the module. It applies effects like hue, saturation, contrast, opacity, and much more.
Transform
The transform feature provides attributes like transform scale, rotate, translate, skew & origin to work with more flexibility.
Animation
Web owners can implement 7 enticing animation effects with all essential features to make the module attractive and engaging.
Custom CSS
Custom CSS is imported for developers to customize further to extend the beauty of the Divi tab module enormously.
Transition
The transition option of the module allows users to optimize the transition duration, delay, and curve speed in no time.
Position
Web owners can define the module placement between relative, absolute & fixed position and the Z-index property.
Scroll Effects
Divi users can apply a great scroll effect to the module by choosing the right sticky position, transform effect, vertical motion & effect trigger.
Divi Advanced Tabs Module By DiviGear
Build a Section That never been Possible with Divi
Divi advanced tab module comes with a wide range of features for Divi users. Possibilities for design are unlimited here. So explore the features and combine them to create something extraordinary.
All In One Combo Pack
33% OFF
Advanced Divi Tabs Module
Advanced Divi Heading Modules
Divi Carousel Module
Divi Product Carousel Module
Divi Blog Module
Divi Blog Carousel Module
Multipurpose Divi Child Theme
Business Divi Child Theme
StartUp Layout Pack
Hosting Layout Pack
Plugin Combo Pack
25% OFF
Advanced Divi Tabs Module
Advanced Divi Heading Modules
Divi Carousel Module
Divi Product Carousel Module
Divi Blog Module
Divi Blog Carousel Module