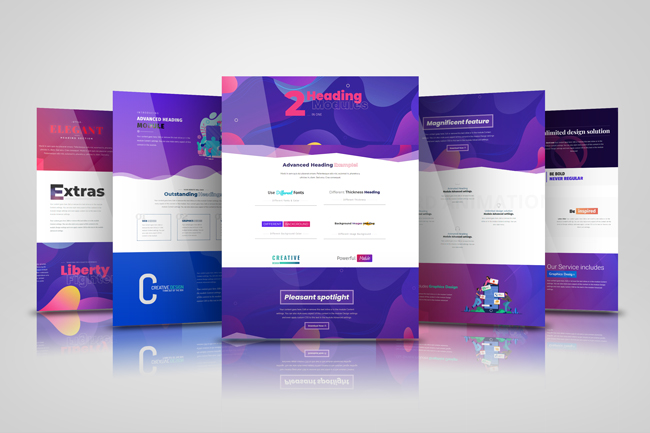 Advanced Divi Heading Modules
Advanced Divi Heading Modules consist of two different heading style modules that give you the ability to create outstanding headings. Both modules have multiple options to help you create designs of your choice with more functionality and flexibility.
Create Incredible Headings with Powerful Options and Features
Advanced Divi Heading Modules for Divi Page Builder has been created and developed to fit your needs and meet your expectations. We are always enhancing our modules by adding more styling options so you can use it with the way that meets your needs.
Advanced Divi Heading Modules for Divi has come with lots of customization options. All you have to do is to add your own touch to it. Check out what you can do using Advanced Divi Heading Modules.
Advanced Heading module is the Swiss army knife of custom heading design in Divi theme that lets you create unique heading text with a variety of design combinations. The advanced heading is a module that is essential for website design enhancement.
Advanced heading has three different text fields with all the text customization options. Design the heading module with colors, fonts, and other text customizations to create beautiful typography. You can design all at once or separately with different styles. Individual background options with gradient availability will make heading out of the box. Including all the other regular options, the heading module has a custom border for each element.
Dual text is one of the main features of this module. The heading module allows stacking two texts on top of each other without using the space of two lines with all the text design options. With a diverse custom margin padding option, you can choose to keep the same text or input custom text on it.
Key Features:
Three text areas with customizations.
Full control on Divider with icon & image.
Background control to each text field.
Stacking two texts on top of each though Dual text.
Display element – block and inline.
Clipping masks for text.
The display element is another cool feature to control how each element will display. Choose the block to create a new line and take up the full width or inline to take up as much width as necessary.
Clipping in the heading module is a powerful way to control the visibility of an element. It will allow Knockout the text where words are clipped out of an element and reveal the background. It is an appealing typographic style that definitely adds value to web design projects.
Animated Heading allows you to create 9 different animations on your heading with other design options. A collection of 9 CSS effects will interchange words that replace one another through CSS transitions. You can animate words or letters in various forms. It has Easing Functions which can make animations more realistic.
In 3 different text fields, there is room to give individual background including gradient and image. Each field can be customized with different font styles and colors, Sizes and Spacing and many more. Not only this Animated Heading has a border option for the whole module as well as for individual text fields which will keep heading style into the limelight on a website.
Key Features:
9 Different Fancy Text Animation.
Three Content Area with Customization.
Whole Bunch of Easing Functions.
Background for All Individual Content Area.
Border customization for All Individual Content Area

Custom Spacing for All Elements.
Like any other DiviGear module, Advanced Divi Heading Modules has an extensive range of spacing options in both Advanced and Animated modules. To spacing out element we kept margin padding in each element in all our divi modules.
Advanced Divi Heading Modules adds a lot to amazing headings styles to Divi Page Builder that you can use instead of conventional heading style with no coding required. Both modules have multiple options to help you create designs of your choice with more functionality and flexibility.
Some Common Features:
Heading All the way down from H1 to H6
Border control for each text field.
Sizing Options
Custom Spacing for All Elements.
Box Shadow
CSS Class & ID
Custom CSS
Transitions
Position
Scroll Effects.
Try Amazing Headings Styles Instead of Conventional Styles
To get you started we provide a large collection of aesthetic heading design layout. The Cutting edge designs & Easily customizable layouts will Increase your efficiency and project quality without further ADO.
100% Visual Builder Compatible
Supported all Modern browsers
Unleash endless possibility
Well Coded & Light Weight
Have a pre-sale question?
Feel FREE to reach out our support
All In One Combo Pack
33% OFF
Advanced Divi Tabs Module
Advanced Divi Heading Modules
Divi Carousel Module
Divi Product Carousel Module
Divi Blog Module
Divi Blog Carousel Module
Multipurpose Divi Child Theme
Business Divi Child Theme
StartUp Layout Pack
Hosting Layout Pack
Plugin Combo Pack
25% OFF
Advanced Divi Tabs Module
Advanced Divi Heading Modules
Divi Carousel Module
Divi Product Carousel Module
Divi Blog Module
Divi Blog Carousel Module