DiviGear Table Module is a productive tool for building actionable and easily manageable data tables. With advanced styling options and functionality, effortlessly create responsive tables in a tabular format, incorporating unlimited data and rows for precise data representation.
14 Days Money-back guarantees. Lifetime Update.
Find Out What Divi Lovers Think of Our Divi Table Plugin
Easy setup, seamless customization, and responsive design. The tabs effortlessly present diverse content, and dynamic loading ensures swift transitions for me.

Jason Harding
The plugin is so easy to use and the support is fast and friendly.

Martin Krajnak
Great plugin, excellent support – always ready to assist with any issue!

Nemanja
SIMPLE AND STYLISH
Redefining Data Presentation with Responsive Tables
Responsive Tables Made Easier!
DiviGear Table Module simplifies the process of responsive table creation like never before. Simply define columns and rows using the intuitive editor, seamlessly input your data, and choose the row type from Head, Foot, and Body to complete the process. The best part? Achieving responsiveness is just a button click away!
Incorporate any type of table in your Divi website
Easily insert text, images, icons, ratings, etc., using HTML tags
Incorporate unlimited columns and rows with essential data
Define three-row types for first, last, and body content
Activate Responsive Mode for seamless device responsiveness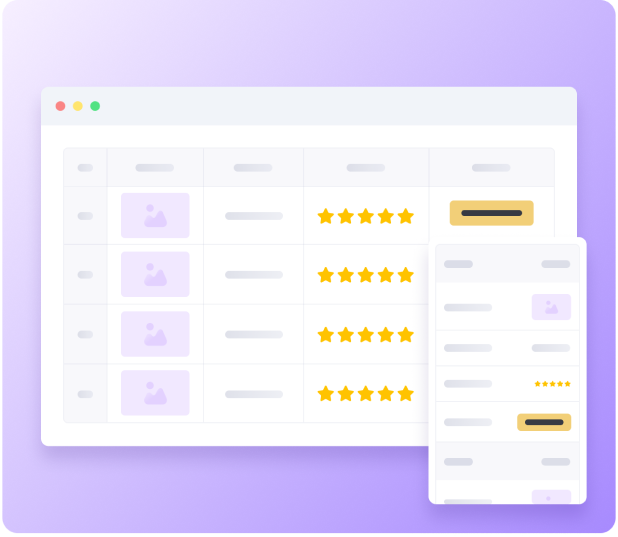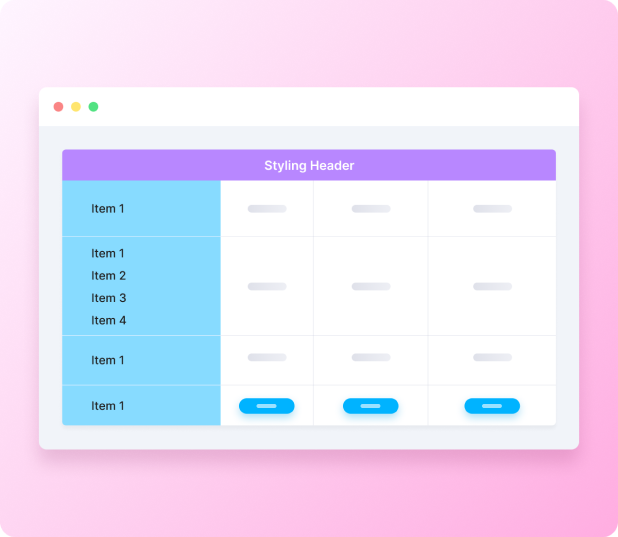 Complete Control over Header, Footer, Row, and Column
Seize full control over your table's visual elements while maintaining a polished and tailored appearance with the DiviGear Table Module. Customize the header, footer, rows, and columns independently and effortlessly merge columns and rows according to your data needs without compromising on styling. Also, highlight header and footer elements for added clarity.
Independent styling option for header, footer, rows, and columns
Customize the header, body, and footer of the table separately
Merge multiple columns or rows into a single cell seamlessly
Include any combination of content, column headers, column footers, row headers, and row footers
DiviGear Table Module gives you extensive customization features to design each element to perfection. From adding stylish badges to incorporating icons and images, enjoy an unparalleled visual experience with border framing, background color, and style individual elements like head, foot, body, first column, and last column including text, color, and custom spacing.
Add badges with customizable text and position control
Integrate custom icons and images directly within the table
Easily determine the size and color of icons and images
Apply custom spacing and box shadows for each table element
Utilize border styler to align with design preferences
Frame tables with extensive border style for added visual appeal
Separate color options for each table content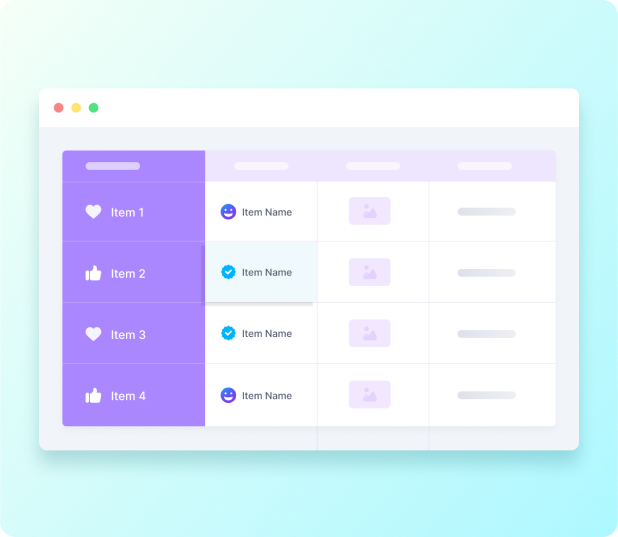 Kickstart with Free Premade Section Layouts
Unlock your creative potential with our free, reusable section designs! These layouts are optimized for seamless performance across all devices.
Explore the Extensive Functionalities of DiviGear
Table

Module
Craft functional data tables effortlessly with the DiviGear Table Module. Enjoy advanced styling and unlimited options for precise representation.
HTML Elements
Create a table using basic HTML elements and customize those using Divi design options
Mobile Responsive
Create responsive tables that are built using a wide range of elements
SEO friendly
Build 100% SEO friendly table using Table Tag that is loved by google
Merge Columns & Rows
Merge columns and rows and create complex table in one click
Badge
Use badge on a table and make the column standout to make interaction with users
Import Tables
Import tables data from CSV files, Google sheet, database, Tablepress plugin
Search Sort & Order
Use ajax search or set order and sort data to the preferred columns for easy navigation
Multilingual supported
Both tables are ready to use in different languages
Streamlined Table Creation for Improved Data Presentation
Elevate your data presentation with feature-rich Divi tables
14-Day Money-Back Guarantee. Lifetime Updates
Got Questions? We've Got Answers
Is It Multilingual Ready?
Yes, our plugin is perfectly compatible with multilingual plugins like WPML. So, no need to worry about language barriers.
Can I Use It without Divi Builder?
No, in order to use our CPT modules, it's important to ensure that the Divi builder is activated on your site.
Does it Work with Any Theme?
Absolutely! Our modules is like a chameleon that blends seamlessly with any theme, as long as the Divi builder is activated on your site.
Feel FREE to reach out our support
Have a
pre-sale

question?
Other Divi Modules in DiviGear Plugin
Unbeatable Offers! Save Up To 85% on This Black Friday
Biggest Black Friday Ever. Save Up To 85% for a very limited time. This is once in a lifetime opportunity. Don't let it go!!
14-Day Money-Back Guarantee. Lifetime Updates