DiviGear Pop-Up Module is your go-to solution for creating stunning Divi pop-ups and boosting user interaction on your website. Whether you're aiming for lead generation, promotions, or growing your email list, DiviGear Pop-Up Module empowers you to display compelling pop-ups anywhere with ease.
14 Days Money-back guarantees. Lifetime Update.
Find Out What Divi Lovers Think of Our Divi Gallery Plugin
Easy setup, seamless customization, and responsive design. The tabs effortlessly present diverse content, and dynamic loading ensures swift transitions for me.

Jason Harding
The plugin is so easy to use and the support is fast and friendly.

Martin Krajnak
Great plugin, excellent support – always ready to assist with any issue!

Nemanja
ACTIONABLE AND ATTENTION-GRABBING
Maximize Impactful Engagement with Strategic Popups
Create Stunning Popups in Minutes
Crafting eye-catching Divi popups with the DiviGear Popup Maker is a breeze. With the versatility of Divi modules and endless options at your fingertips, enjoy complete control to tailor popups that resonate with your brand precisely.
Effortlessly design pop-ups with the Divi visual builder.
Design pop-ups with opt-in forms to capture valuable leads.
Highlight special promotions or discounts to boost sales.
Deliver important messages, announcements, or updates.
Re-engage visitors with targeted messages when they are leaving.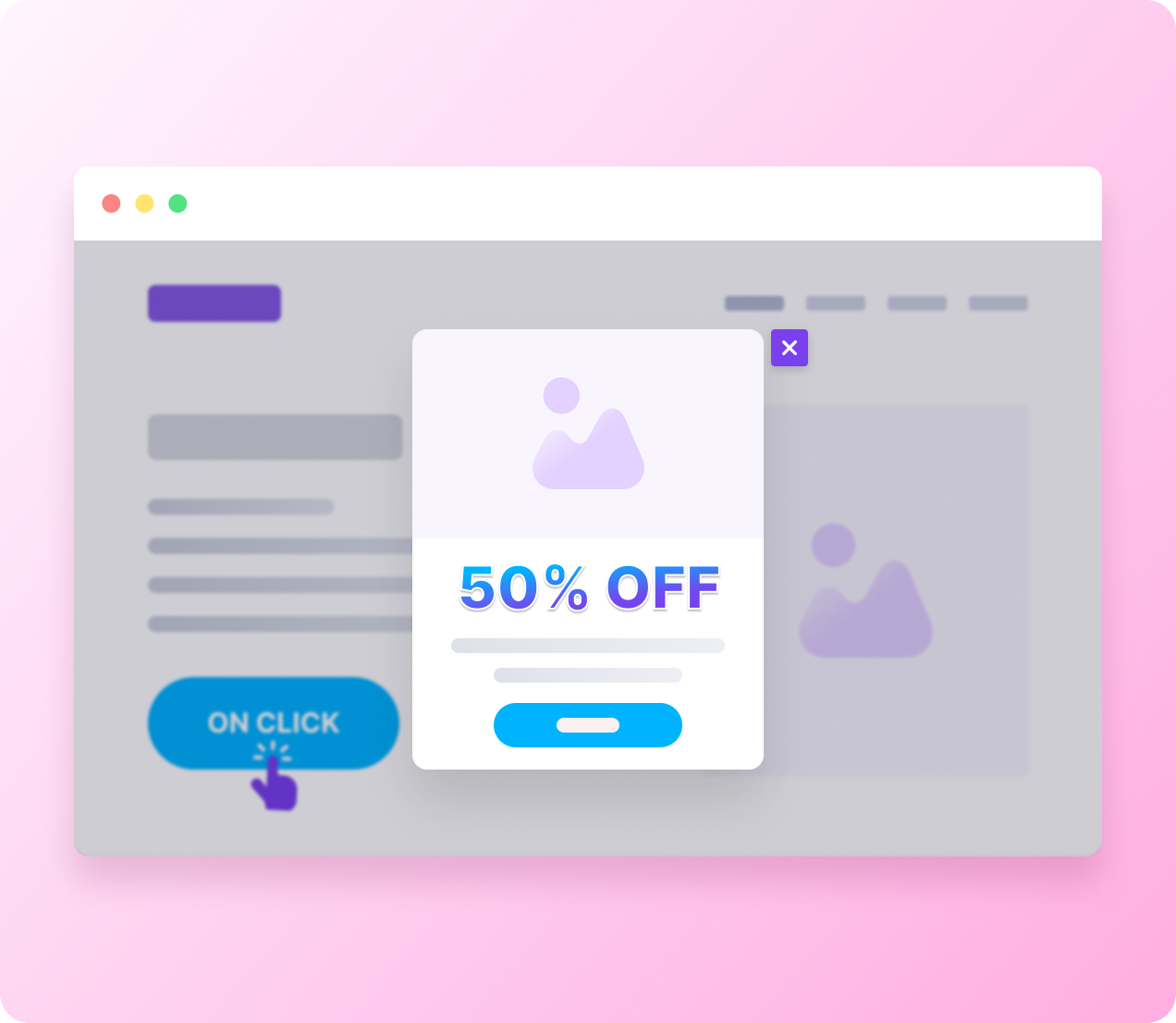 Multiple Popup Trigger Types to Boost Engagement
With six different Divi Popup Trigger types, ensure optimal user interaction effortlessly. Choose from trigger options from click, on load, on scroll, scroll to an element, on exit, or on inactivity, and configure them according to your specific needs.
Display a popup when a visitor clicks on a specific element or area.
Set your popup to appear once the entire page has fully loaded.
Activate a scroll trigger when a user scrolls a designated percentage of the page.
Display a modal popup precisely when a visitor reaches a specific conversion point.
Add an on-exit modal when your visitors are about to leave your site.
Trigger a popup for inactive visitors after a period of inactivity.
Configure Display Conditions and Pop-Up Positioning
Fine-tune your popups by configuring display conditions and positions with precision. Select when and where popups appear and strategically position them at the top, center, or bottom of the screen for maximum impact.
Extensive display conditions based on user roles
Optimize popup visibility with nine placement options.
Choose specific pages or posts to showcase or hide the pop-up modal.
Schedule popups for timely promotions and announcements.
Set up recurring popups on specific days of the week.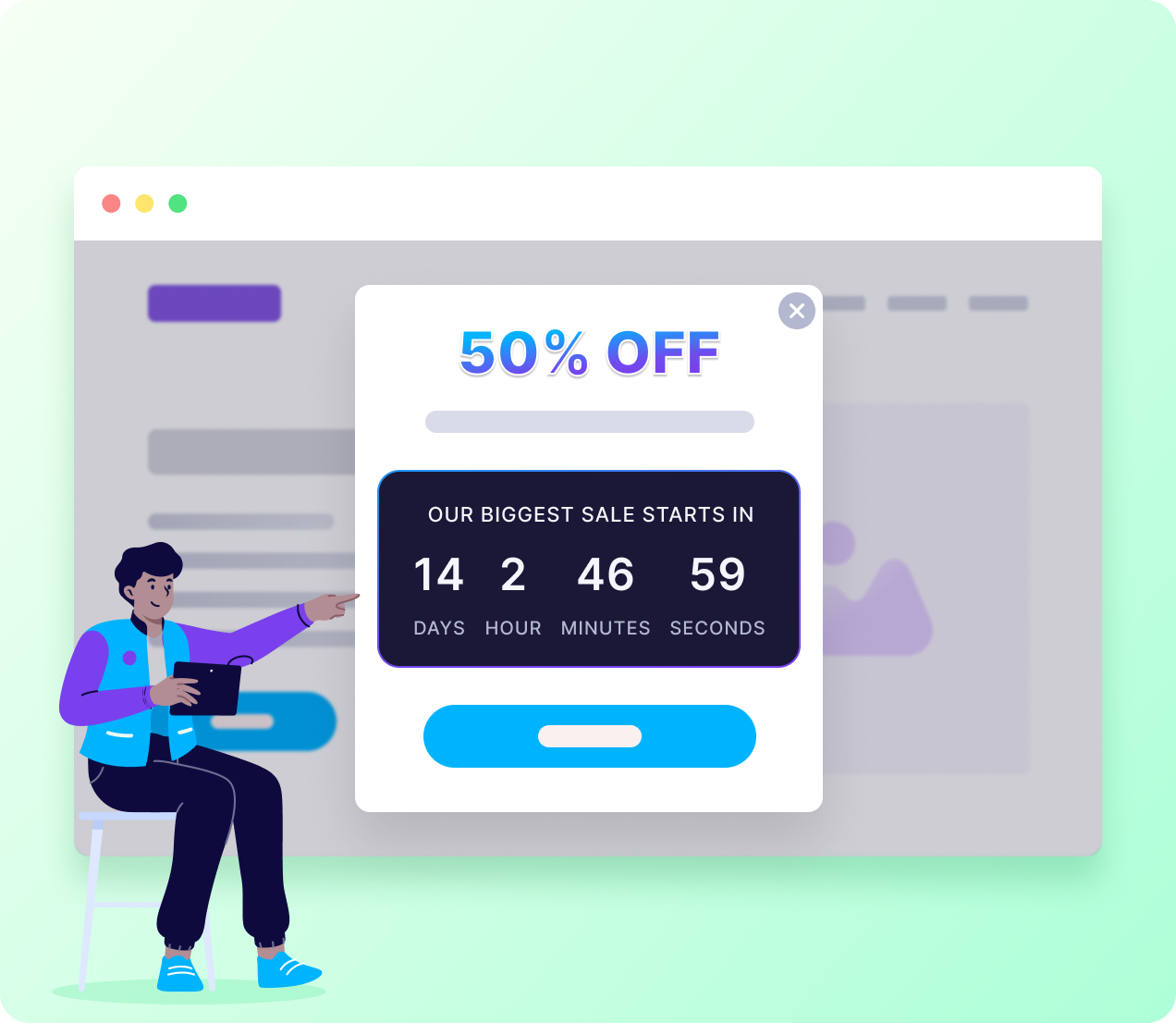 Customize Your Popup with Dynamic Settings
Explore the flexibility of customization and transform your pop-ups into powerful tools for effective communication. From eye-catching animations and responsive designs to personalized triggers, refine every element including appearance, fonts, and colors for an engaging and memorable user experience.
Tailor the appearance and behavior of your popups to perfection.
Choose from eight different reveal types for diverse presentations.
Set when your popups appear, including delays and time-based triggers.
Enhance visual appeal by applying overlays around the pop-up modal.
Triggerable close button activation.
Manage the cookie policy according to your preferences
Kickstart with Free Premade Section Layouts
Unlock your creative potential with our free, reusable DiviGear Popup section designs! These layouts are optimized for seamless performance across all devices.
Revolutionize User Engagement with Action-Packed
Popups
DiviGear Popup Module transforming the way you connect with your audience, enhance user experience, capture leads, and drive conversions effortlessly.
Popup Elements
Use 100's of Divi Modules including 3rd party to create amazing popups for Divi
Popup Types
Create any type of popup by combining Divi features with Divi Popup
Popup Trigger
Choose a trigger type from the list of 6 actionable triggers and use it with conditions.
Popup Conditions
Show the relevant popup to the right person on the targeted page using conditions.
Popup Position
Place your poped-up content in 9 different positions in a website view port.
Popup Animations
Animate popup with 8 different animations while revealing as well as when closed.
Popup Close
Close popup with a customizable closing button as well as any elements of your liking.
Popup Cookie
Set different cookies for your popup based on requirements and user perspective.
Enhance Your Website's Interactivity with DiviGear Pop-up Module
An intuitive solution for creating compelling and strategically timed pop-ups
14-Day Money-Back Guarantee. Lifetime Updates
Got Questions? We've Got Answers
Is It Multilingual Ready?
Yes, our plugin is perfectly compatible with multilingual plugins like WPML. So, no need to worry about language barriers.
Can I Use It without Divi Builder?
No, in order to use our CPT modules, it's important to ensure that the Divi builder is activated on your site.
Does it Work with Any Theme?
Absolutely! Our modules is like a chameleon that blends seamlessly with any theme, as long as the Divi builder is activated on your site.
Feel FREE to reach out our support
Have a
pre-sale

question?
Other Divi Modules in DiviGear Plugin
Unbeatable Offers! Save Up To 85% on This Black Friday
Biggest Black Friday Ever. Save Up To 85% for a very limited time. This is once in a lifetime opportunity. Don't let it go!!
14-Day Money-Back Guarantee. Lifetime Updates