Empower Your Divi Builder Experience with Our Divi Plugins
We bring innovation to the Divi Builder, enhancing your design efficiency with our powerful Divi plugins, enabling you to create stunning Divi websites like never before.
Easily build stunning Popups to engage, convert and delight your visitors.
Use hundred of Divi modules to create popup
Create any type of popup and trigger it
Show right popup to the right person at right time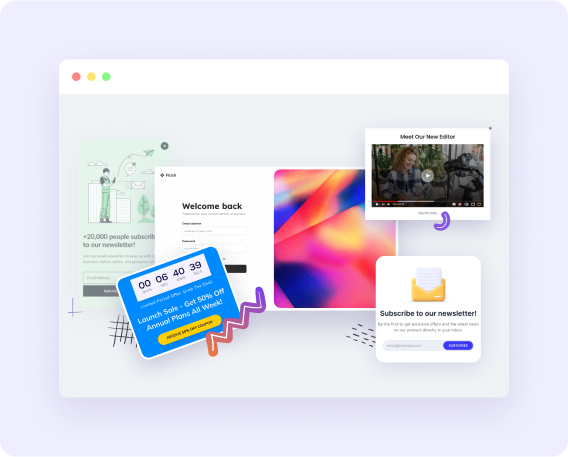 Responsive, featured rich, SEO friendly table as divi Modules
2 Responsive Divi Table Modules in One Plugin
Made using Table tag, 100% SEO friendly
Design header, rows, columns, and footer
The brand new inclusion to create gorgeous-looking image galleries for Divi.
3 Module to create various image Galleries for Divi
Masonry, Grid, Packery, Justified, and Filter Layouts
Animations, Effects, Ajax, and many hidden gems
The ultimate solution for crafting captivating CPT layouts that transform your post types.
3 Divi CPT Modules in One Plugin
Grid or Masonry layout with or without filter
CPT Carousel with regular Or 3D slider
Create a powerful carousel slider for Divi with the most popular and affordable Divi plugin.
5 Different types of carousels with one module
3D Coverflow or regular slider
Image lightbox over the carousel
Get the next-gen version of the Divi tabs module and create compelling tabs using any content.
Vertical and horizontal tabs inside one module
Use any type of content inside the tabs
Divi shortcode extension included
Promote WooCommerce products in an engaged and convertible carousel slider in Divi websites.
All necessary Woocommerce components
Multi Slide or single product slide
Animated Add to cart for quick conversions
Craft dynamic blog layouts for Divi to attract and educate your potential customers.
All Essential Dynamic Post Elements
Grid, Masonry and List Layouts
Support all custom pos types
Showcase blog posts in a gorgeous looking carousel and place it anywhere in your website.
Blog post elements control
Full featured carousel options
Create beautifully crafted, uniquely designed animated or static headings for Divi.
2 modules inside one plugin
Gradient text, Text mask, Multi-text and more
Unbeatable Offers! Save Up To 85% on This Black Friday
Biggest Black Friday Ever. Save Up To 85% for a very limited time. This is once in a lifetime opportunity. Don't let it go!!
14-Day Money-Back Guarantee. Lifetime Updates
Here's what Divi Lovers says about DiviGear Products
Love their products! I first got the carousel module and fell in love with it… Then when the blog carousel was released, I purchased it too without even blinking! Very stable and amazing products!

Wissam Chidiak
Easy setup, seamless customization, and responsive design. The tabs effortlessly present diverse content, and dynamic loading ensures swift transitions for me.

Jason Harding
If not the best then one of the best DIVI teams on the net for sure!!! Always there when you need them, very professional, very dedicated to their work and the customer is in the first place. Thank you guys for your great work and your help.

Mustafa Gramočelji
Got Questions? We've Got Answers
Divi Plugins are an integral part of the Divi theme ecosystem. These are custom WordPress plugins developed to extend or add new functionalities to Divi. Whether you are creating a blog, e-commerce, or business website with Divi, plugins play a crucial role in achieving your desired design.
Divi Modules are developed with various types of content elements that are typically used within a row to achieve a specific design. Each content element within the module comes with numerous customization options, simplifying the design process. Additionally, Divi has a thriving ecosystem of third-party plugins that offer many modules to enhance its functionality.
What is the Difference Between Divi Plugins and Divi Modules?
A plugin is a tool that can be installed to extend functionality and add additional features to the Divi builder. In contrast, a module consists of a content element that helps you design a website according to your needs. It's important to note that a single plugin can contain multiple modules.
How Do I Install a Divi Plugin?
After downloading a Divi plugin, navigate to your WordPress dashboard > plugins > add new, then select the upload option. Choose the plugin and click the "Install Now" button to complete the process.
Do I Need Coding Skills to Use Divi Plugins?
No, Divi developers have designed their plugins with a user-friendly approach, allowing individuals without coding skills to use them effectively. Therefore, there is no requirement for coding expertise to operate Divi plugins.
Can I Use Multiple Divi Plugins?
Yes, you can use multiple Divi third-party plugins on your website simultaneously. However, it may occasionally lead to certain difficulties. In such instances, reaching out to the support team of the respective plugin can help address and resolve any issues that may arise.
Do Divi Plugins Work with Any WordPress Theme?
Yes, as long as the Divi builder is installed and activated on your website, Divi plugins work with any WordPress theme.
Do Divi Plugins Slow Down My Website?
Contrary to common misconceptions, Divi plugins do not negatively impact the speed or performance of your website. Based on our testing using plugins like DiviGear and DiviFlash, there is no evidence to suggest that Divi plugins will slow down your website.
Can I use WordPress plugins with Divi?
Yes, Divi is considered one of the best WordPress themes, and you can use any WordPress plugins with Divi without any conflicts.
Feel FREE to reach out our support
Have a
pre-sale

question?
Other Child Themes & Layouts