11 Best Divi Blog Examples 2021
Worried about how to design your blog page with the Divi theme? It often happens for the first time or for a new theme to create the blog. 
In that situation, we often have no idea what our blog should look like. If you are having the same problem, then you are in the right place. 
Here I'm introducing you to some best Divi blog examples designed with the Divi Blog Module that could inspire you. As a result, you can create your blog page out of the box. 
Although I have not listed these Divi theme blog examples in any particular niche, these are still very inspirational. 
Hang around till the end of this article, and you will definitely get some ideas to move one more step forward regarding building your blog in Divi theme. 
Now it is time to look at some of the best Divi blog website examples for design inspiration. 
Let's get into it-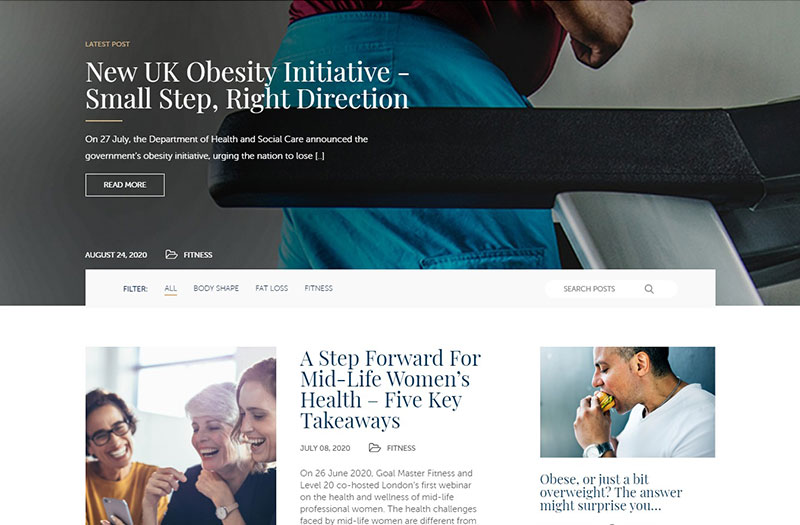 When we talk about a simplistic but modern blog design, it doesn't mean a lot of resources and tutorials are required. "Goal Master Fitness" is the perfect example of justifying my words. This awesome blog has different designs for different rows. 
The first row displays two blog posts, the second row displays three posts, and the third row shows two posts in different row structures. The fourth row displays two posts but again in a different look from the second row. After the fourth row, posts are continued to show by following the first to the fourth row. 
There is nothing fancy, simple color combinations, and outstanding CTA buttons except the creativeness of displaying the posts. 
The smart placement of feature image, content excerpt box, and simple zoom-out hover effect over the image make it exceptional. 
That's why I listed the blog on top of the list of best Divi blog design inspirations in modern days.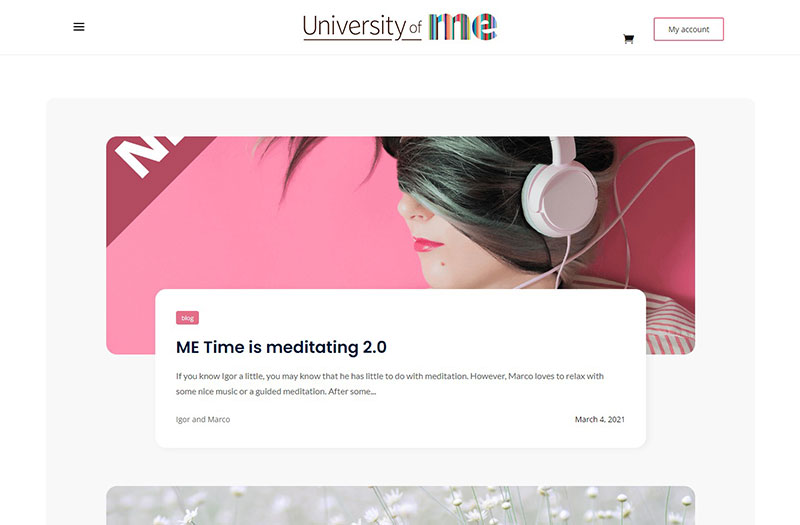 The "University of Me" blog design is a perfect example when it is called simple is the best. When I first saw their blog post, it just amused me. 
The blog layouts are designed to display a single post in a row. However, the thing I like most, it's feature image placement and its exceptional design concept. The featured image overlaps by its excerpt that is placed inside a box. 
There is no bright color, text, and gorgeous CTAs, but the blog counts as one of the best divi blog designs in 2021.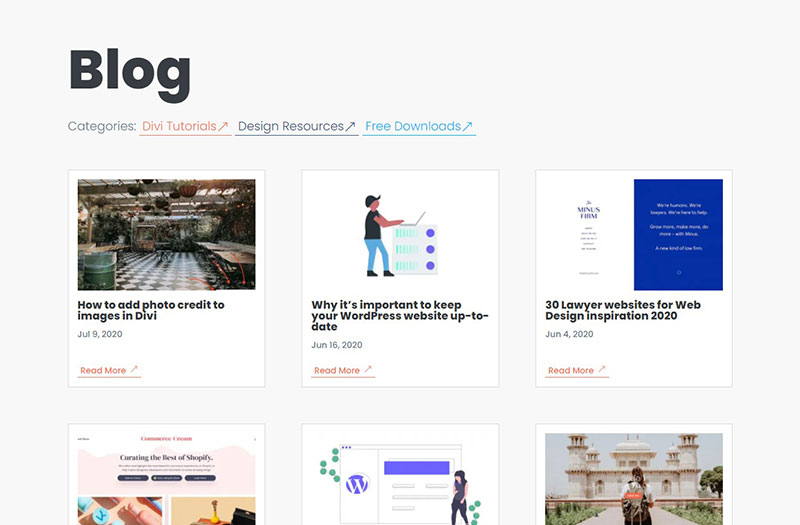 "Andy Hooke" is another blog design example listed in this list because its simplicity doesn't overlap the creativeness. 
This astonishing blog design with the hover effect controls the full post at a time except the CTA button. When scrolling over the post, a little bit of zoom-in effect looks pretty good.  
The combination of real and fictional graphic feature images impressed me. In addition, the CTAs design, color, and orange color shade, when hovering over the button are quite interesting. That is the reason this site is on the list of modern-day blog design inspiration.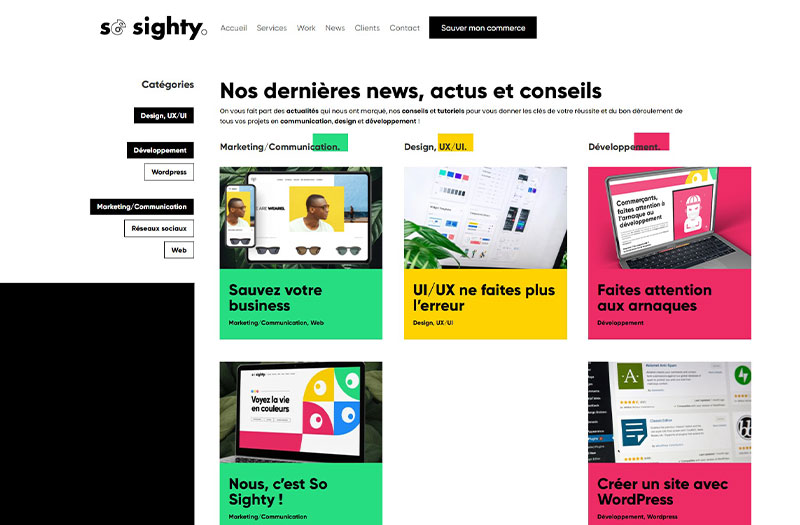 "So Sighty" is one of the fanciest blog page examples in this list. Every single row displays three blog posts. In terms of color combination, they use three different colors. The single post contains a feature image and title with an amazing hover effect. 
The full blog post section zooms out when scrolling, and a black border comes out around the post section. 
If you're looking for a colorful, scroll effects blog design, this blog design could be inspirational for you.
"Progress" is another outstanding Divi blog example for modern-day websites. This website blog section contains all blog elements that should have in a standard blog layout.
In a grid layout, they display three blog posts & designs with a featured image that contains flat image designs, hover effect, and overlap by the excerpt box. The combination of black, white, and a little bit of yellow color perfectly follows the whole website design. 
Overall, it is a cool blog layout that is worth following.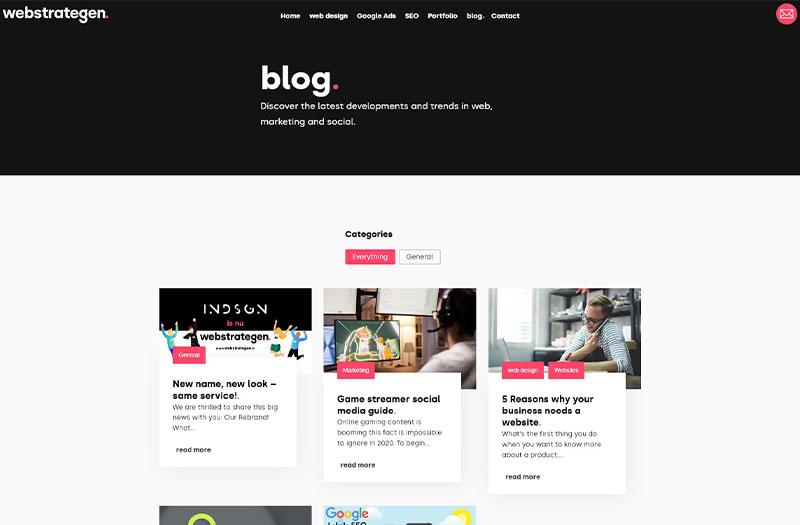 "Webstrategen" is another Divi website that meets the modern blog page requirements. The blog page design by following the main site design concept. 
Its perfect blend of color combination, hover effects over the feature images, and the placement of CTAs create a unique look. 
The simple grid layout displays three posts. Each post contains a featured image that overlaps by content card or box. Category shows in between feature image and description box comprise beautiful typography. 
In short, this website blog section contains all blog elements that should have in standard blog layout.
This is one of my favorite sites only because of their blog post design concept. The blog page design, especially the scroll effect, is out of the box. 
Following the modern blog page design concept, they give a unique touch in their blog post. Two blog posts are displayed in a single row. Each of the blog post designs starts with the content title and a little bit of description. 
The featured image is placed in between the description and the read more option. The whole blog post is customized with a single hover effect. The hero section zooms back when the cursor scrolls and the black shadow comes from the side. In addition, the read more option also changes its color at the same time. 
Its exceptional design, color combination, cursor style, and scroll effect drive me to list this blog page in this blog examples list.
The "Future Football Profs" is a Divi website with amazing blog post layouts that meet the modern blog design requirements. 
The color combination of the title text, read more button and its hover effects, and the overlapping hover effect on the feature image makes itself an outstanding blog page. Moreover, it is a perfect package of blog page examples that are worth following.
"Clement Fromont" is another simplistic Divi website that is worth following for blog design inspirations. 
The blog has an elegant design with hover effects on the content title and CTA button. They design the post with a unique touch. It has an extra-large content box that contains the title, bullet points within the content, button on the card footer, and relevant graphic images on the right side. 
This blog page example is perfect for full-width simplistic blog design in Divi websites. 
"Grow My Business" is another Divi website that I like for its blog page. The blog page design combines bright colors, simple images, and amazing hover effects on the content title. 
On this blog page, they didn't use a lot more elements but a dazzling hover effect on the title. This is the element that makes a unique and beautiful typography look of this blog page.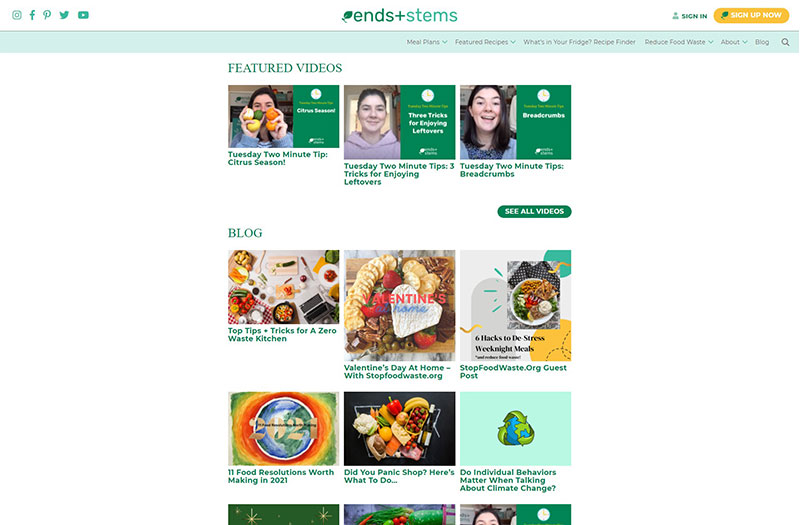 Ends+Stems is a food blog website that is also perfectly designed with a balance of text, images, color, and buttons. When this blog page is designed, they mainly focus on the feature images. 
The simple grid layouts look so beautiful by using the perfect combination of the title's usual and hover color. The social buttons added on the image hover effects. When hovering over the feature image, Pinterest sharing buttons appear on the top of the image. 
There is nothing fancy or extraordinary, but still, a blog page meets the modern blog page design concept. That is the reason Ends+Stems listed on this blog page examples.
Recommended Premium
Modules to Create Amazing Divi Blog Layouts
Divi Blog Module is a module offered by DiviGear to create & design your exclusive blog page layouts with extensive design options. Divi Blog Module allows you to create your blog layout quick and easy.
Here we come to an end for today. Now you have some best Divi blog site examples. Hopefully, you are inspired enough to build your own blog page with Divi Blog Module. 
Since we care for you, DiviGear built the Divi Blog module plugin that breaks the limitation of the Divis default blog module. Now you don't need to stick to only two blog layouts.  
But remember one thing when designing your blog, you should not mess with the text and CTAs. Also, choosing the right font style & color scheme is crucial for a blog design, so choose wisely. 
Now it's time to create beautiful blog layouts and show them wherever you want on your Divi websites. You can check out our vast range of amazing blog layouts demo for your next Divi blog. 
If you have any queries feel free to contact the support team. We're eagerly waiting to meet with your next Divi blog page.